I am pleased to announce Between the Bullet and the Lie: Essays on Orwell.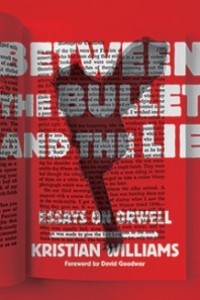 Approximately the first half of the book forwards an interpretation of Orwell's thought, especially as it relates to the intersection of ethics and politics; the second half applies his thought to our present moment, with particular attention to issues of intellectual clarity, personal integrity, pessimism in politics, and the failures of the left.
If you would like a copy, send me $18 and I'll put it in the mail to you.
Or better still, if you are in San Francisco on Sunday, November 19th, you can find me at the Howard Zinn Bookfair. I'll be speaking at 2:45 in Room 315, and tabling all day.
And as always, drop me a line if you'd like to bring me to speak at your school, church, union hall, bookstore, or pub.