I will be in the Bay Area this weekend, speaking at several events:
Friday, November 9, 7pm
Modern Times Bookstore
2919 24th Street, San Francisco
I will be discussing my collection, Hurt: Notes on Torture in a Modern Democracy, and a recent essay about grand jury resistance. Q and A to follow.
Saturday, November 10, noon
March Against Police Brutality and Against Racial Profiling
14th and Broadway, Oakland
I have been invited to speak about the police and racism, and will then be joining the march.
Saturday, November 10, 6pm
The Long Haul Infoshop
3124 Shattuck Avenue, Berkeley
I'll be talking about Hurt — specifically, about the experience of writing about torture, and how anarchism can help us understand it. Q and A to follow.
Sunday, November 11, 11am-5pm
Grand Jury Resistance Panel
The Hold-Out
2313 San Pablo Avenue, Oakland
I'll be speaking alongside Richard Brown (of the SF8) and others on a panel about grand jury resistance. Free lunch!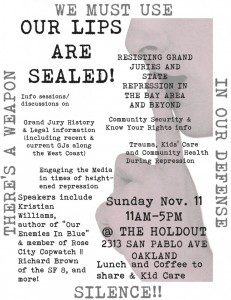 Each event will be different.