You can reach Kristian Williams at:
info (at) kristianwilliams.com
To order books, send a check to:
Kristian Williams
101 SW Madison #8988
Portland OR 97207
Be sure to specify which title you are ordering, and whether you would like it signed.  Prices are below.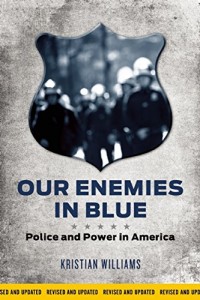 Our Enemies in Blue: Police and Power in America             $20
paperback, 397 pages
(AK Press, 2015)
A critical history of American policing, Our Enemies in Blue looks at police as the protectors of social inequalities, especially those based on race and class.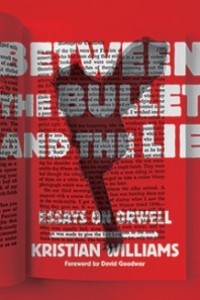 Between the Bullet and the Lie: Essays on Orwell              $18
paperback, 218 pages
(AK Press, 2017)
A dozen essays on the thought of George Orwell and its application to questions facing us today. Individual essays give attention to Orwell's views on decency, aesthetics, nationalism, revolutionary leadership, pessimism, clarity in writing, and the failures of the left.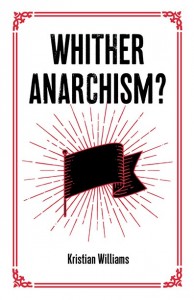 Whither Anarchism?                       $6
pamphlet, 40 pages
(AK Press, 2018)
Three short essays considering the importance of anarchism, its history, its present condition, and the possibilities for the rebirth of the movement.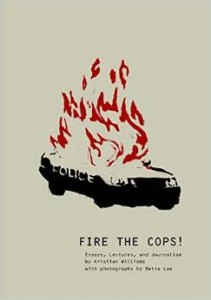 Fire the Cops! Essays, Lectures and Journalism                       $15
with photographs by Bette Lee
paperback, 193 pages
(Kersplebedeb, 2014)
Fire the Cops! is a collection of several essays written in the decade following the publication of Our Enemies in Blue. Including both reports from the frontlines and reconnaissance into the plans and practices of our opponents, Fire the Cops! is intended to help inform future critique, and further struggle.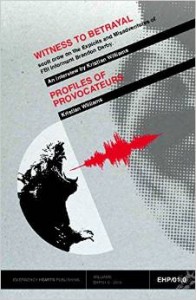 Witness to Betrayal/Profiles of Provocateurs                               $10
with scott crow and photographs by Ann Harkness
paperback, 111 pages
(Emergency Hearts, 2014)
Two related pieces examine informants and agent provocateurs. "Witness to Betrayal" is a long-form interview with scott crow about FBI informant Brandon Darby, their complicated relationship, and the fallout from Darby's actions, personally and politically. "Profiles of Provocateurs" provides recent case studies of the use of agents provocateurs in political prosecutions, and offers practical advice on taking care of ourselves in the face of repression.

Life During Wartime: Resisting Counterinsurgency           $20
paperback, 414 pages
edited by Kristian Williams, Will Munger, and Lara Messersmith-Glavin
(AK Press, 2013)
In this collection of sociological and political essays, two dozen writers examine the application of counterinsurgency  within the United States, and seek to equip the left with a more nuanced understanding of state repression — and how to fight back.

Hurt: Notes on Torture in a Modern Democracy                          $5
pamphlet, 63 pages
(Microcosm, 2012)
Hurt is a collection of articles and interviews on the history, psychology, and current state of torture in democratic societies.  It includes essays on anarchism, the role of the media, prison abolition, and the experience of writing about torture.

Confrontations: Selected Journalism                                                $5
pamphlet, 70 pages
(Tarantula, 2007)
Centered on the role of force in politics, this collection includes an essay on the fallacies of liberalism, some polemical responses to critics of the Earth Liberation Front and black blocs, a two-part set of articles on "The Criminalization of Anarchism" in the Pacific Northwest, and a short history of crowd control.
Credit Card purchases available through Amazon.