Orwell for Beginners has been updated expanded as George Orwell Illustrated.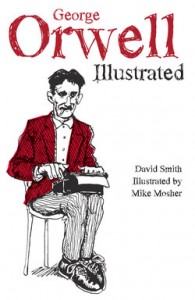 The new edition includes a previously undiscovered manifesto authored by Orwell, with revisions by Arthur Koestler and Bertrand Russell, calling for the creation of an international democratic-socialist human rights organization.  Unfortunately, however, the volume's illustrations have not improved over the past 35 years.  Still, it serves as a pretty good introduction to Orwell's life and thought.
Read my full review at Toward Freedom.