Truthout named Our Enemies in Blue as this week's "Progressive Pick," which is certainly flattering. As a result, they ran a long excerpt about the events of Ferguson, New York City, and beyond. And they interviewed me about police discretion, race, class, and militarization.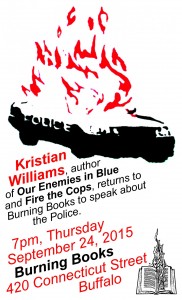 I'm going to be on the doing a couple speaking events in the next few days.
First, I'll be in Buffalo on Thursday, Sept 24, speaking at Burning Books at 7pm.
Then, on Sunday, September 27, at 4pm, I'll be speaking in the Radical Pavilion at the Baltimore Book Festival.
Both places I'll be speaking about Our Enemies in Blue and Fire the Cops!