Those of you interested in anarchism might want to check out two reviews I have out this week (and, for that matter, the books they discuss).
The first is a review of the collection Queering Anarchism: Addressing and Undressing Power and Desire. It's a pretty standard review — strengths, weaknesses, major points. You can read it in the new issue of Perspectives on Anarchist Theory. (Print only. Sorry.)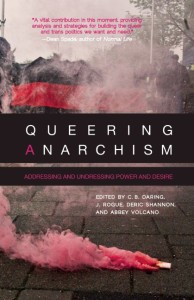 The second, concerning Andrew Cornell's Unruly Equality, is less of a review and more of a response essay. Cornell offers a history of American anarchism from (roughly) World War I to the end of the Vietnam War. I cover the main argument of his book (probably too briefly), and then go on to consider what that history tells us about anarchism now — how it arrived in its present state and, more importantly, what can be done about it.